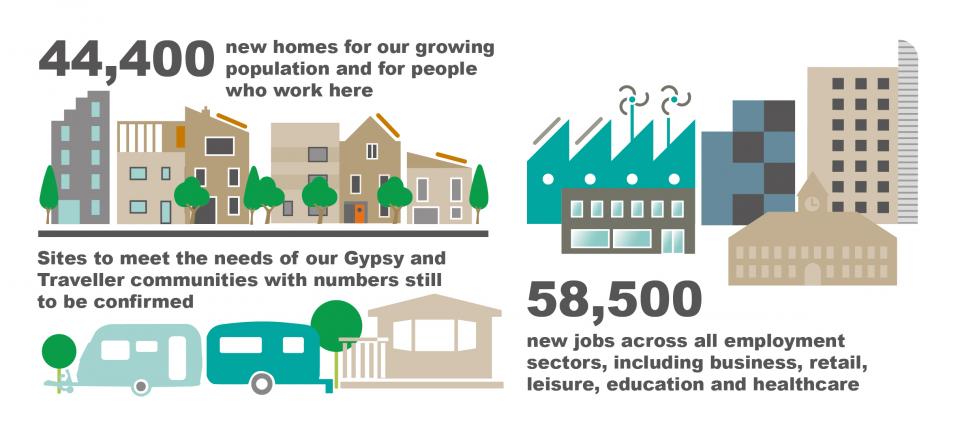 What will this policy do?
This policy will set out the level of needs in that development will meet over the plan period of 2020-2041, for jobs, homes, and accommodation for gypsies and travellers and travelling showpeople.
Proposed policy direction
We propose that the new will meet the following objectively assessed needs for development in the period 2020-2041:
58,500 jobs 

44,400 homes, reflecting an annual objectively assessed need of 2,111 homes per year, which is rounded for the plan.
The homes will include all types, sizes and tenures of market and affordable homes, pitches for gypsy and travellers, plots for travelling showpeople, pitches for others residing in caravans, and residential moorings. Evidence identifying the requirements for pitches, plots and moorings will be completed ahead of the draft plan consultation.
The policy will also set out the approach to identifying neighbourhood plan housing targets for existing or new designated neighbourhood areas. These targets will not form part of the homes figure to be met by new allocations. Instead, the proposed approach would apportion a share of the housing windfall figures (considering Cambridge and South Cambridgeshire separately) according to the neighbourhood area's share of the relevant district's total population.
Why is this policy needed?
National Planning Policy Framework paragraph 11 requires that plans should provide for objectively assessed needs for housing and other uses. This policy only deals with housing and employment needs. Policies within the other themes address the critical infrastructure required to support these homes and jobs, including utilities such as water and power (Policy CC/WE, I/EI), community, sports and leisure facilities (policy WS/CF), green infrastructure (policy BG/GI), open spaces (policy BG/EO), and other infrastructure including transport (policy I/ID).
Jobs and homes
For housing, National Planning Policy Framework paragraph 60 says that Local Plans should support the Government's objective of significantly boosting the supply of homes, providing, as a minimum, the number of homes informed by a local housing need assessment, using the standard method in national planning guidance. National guidance says that there will be circumstances where it is appropriate to consider whether actual housing need is higher than that indicated by the standard method.
For jobs, National Planning Policy Framework paragraph 81 requires plans to support economic growth and productivity. The continuing strength of the economy and its national importance provides justification for exploring higher employment and related housing figures. The Centre for Cities (March 2021) describes Cambridge as one of the most important research and innovation-led employment hubs in the UK. In recent years, it states, the city started from a strong, well-educated employment base and moved from strength to strength.
Responding to evidence of recent fast jobs growth and the resulting implications for housing demand highlighted in the Cambridgeshire & Peterborough Independent Economic Review, we commissioned the Greater Cambridge Employment Land and Economic Evidence Study (November 2020). This Study provides a detailed understanding of potential future employment change for all jobs in the area, including exploring the key sectors that drive employment growth in the area. It concludes that the most likely future level of jobs growth, taking into account long term patterns of employment including recent fast growth in key sectors that perform particularly strongly in the area, is for 58,500 jobs between 2020 and 2041. This was the medium growth level from our strategic options that we published in November 2020 (called the central level in our Employment Land and Economic Evidence Study).
We consider that we should plan for this forecast of the most likely level of new jobs. We are however mindful that the Study also identified a higher growth forecast, placing greater weight on fast growth in the recent past, particularly in key sectors, and that it suggested providing flexibility in employment land in case the market delivers more jobs than anticipated, which is addressed later.
In parallel with the Employment Land and Economic Evidence Study we commissioned the Greater Cambridge Housing and Employment Relationships Report to understand the relationship between future jobs and housing growth. These studies found that planning for the standard method housing figure set by government would not support the number of jobs expected to arise between 2020 and 2041. Planning for this housing figure would risk increasing the amount of longer distance commuting into , with the resulting impacts on climate change and congestion.
We consider that our objectively assessed need for housing for 2020-2041 is the number associated with the most likely future level of jobs: this is a figure of 44,400 homes. This assumes that all the additional homes generated by forecast jobs above those supported by the will be provided in full within .
Our housing and jobs evidence are based upon pre-COVID-19 data. We know that COVID-19 is continuing to have a very significant impact on many aspects of our lives, including on where and how we live and work, and that this is likely to have implications for long term planning. However, at this time it is very difficult to estimate the long-term effects. We have considered at an initial high-level the potential impacts of COVID-19 on the economy of , to inform this First Proposals consultation. Evidence will be prepared to consider the potential longer-term quantitative impacts of COVID-19 prior to the Draft Plan stage to ensure that we understand any implications for the objectively assessed need for jobs and homes for the plan.
In establishing the amount of housing to be planned for, national policy requires us to take into account any needs that cannot be met within neighbouring areas, as well as needs arising in . At this point in the plan making process no neighbouring authorities have asked us to consider taking some of their housing need. Equally, we are not currently asking neighbouring authorities to take any of our own needs.
Gypsies and travellers, travelling showpeople, caravan dwellers and residential moorings
has a large Gypsy and Traveller community. We are required to identify and plan for the accommodation needs of gypsies and travellers, travelling showpeople, others residing in caravans and boat dwellers. A Joint Accommodation Needs Assessment for Gypsies, Travellers, Travelling Showmen and Bargee Travellers and other Caravan and Houseboat Dwellers has been commissioned with authorities in Cambridgeshire and parts of Norfolk and Suffolk. The outcome has been delayed by COVID-19 lockdowns and social distancing measures, and the study is now expected to report at the end of 2021. The draft plan stage will identify the number of pitches and plots, and residential moorings, that we will be planning for, and how we will meet that need.
Neighbourhood plan housing targets
National policy requires that Local Plans should set out a housing requirement for designated neighbourhood areas – places where communities are actively preparing neighbourhood plans. We currently apply the proposed approach on an informal basis to identify indicative housing requirements for designated areas, and we propose to formalise this approach by including it within the . This proposed approach sees neighbourhood plans contributing to meeting the number of homes we expect to come forward across the area during the plan period on windfall sites – sites not specifically identified in the - and provides local communities with the opportunity to influence where such development goes. As such we are not relying on neighbourhood areas providing additional homes to meet our requirement.
What consultation have we done on this issue?
A majority of responses (49%) to the relevant First Conversation question (Q32) agreed that we should plan for a higher number of homes than the minimum required by government, to provide flexibility to support the growing economy. Views varied with some stating that we should plan for no new development, and others stating that we should plan for government's standard method local housing need, and others for higher figures. Many comments highlighted the potential negative impacts of growth, but also that if development is to come it needs to mitigate its impacts on issues such as climate and biodiversity, in particular by the location and design of development.
Discussion during the Autumn 2020 workshops considering the Strategic Spatial Options evidence identified that there is general consensus about there being a strong relationship between homes and jobs. Views varied between those stating that we should plan for no or low growth, and those stating we should plan for the higher jobs growth scenario. Many stakeholders raised concern that the maximum growth levels forecast could be undeliverable due to the issues with water supply across . It was acknowledged that delivery of the water infrastructure required to prevent further deterioration of local chalk aquifers was potentially a 'deal-breaker' within the timescales of the .
In the First Conversation consultation we also asked for comments on the then proposed approach of planning to 2040. Most responses supported this approach, with some suggesting a longer end date of 2050. Some comments queried the then proposed start date of 2017, which had been derived based on the availability of historic data at the time of the First Conversation. The First Proposals includes a plan period of 2020-2041, bringing the start date to a point now reflecting the latest data, and an end date of 2041 to ensure we meet the national policy requirement for plans to look ahead over a minimum 15 year period from adoption.
What alternatives did we consider?
1. Planning for the higher jobs forecast and level of homes associated with it. This alternative was rejected as this higher jobs forecast could be possible, but is not the most likely future scenario. As such we do not consider that it represents our objectively assessed need, and would therefore not be a reasonable alternative.
2. Planning for the government's standard method local housing need figure. This alternative was rejected as it would not support the most likely forecast for future jobs. As such we do not consider that it represents our objectively assessed need, and would therefore not be a reasonable alternative. Failure to reflect that likely level of growth, would lead to increased commuting into the area (with consequent impacts on quality of life, wellbeing and carbon emissions objectives for the plan).
Existing policies in adopted 2018 Local Plans
South Cambridgeshire Local Plan 2018
Policy S/5: Provision of New Jobs and Homes
Policy 2: Spatial strategy for the location of employment development

Policy 3: Spatial strategy for the location of residential development
Tell us what you think
Our consultation for this phase is now closed.