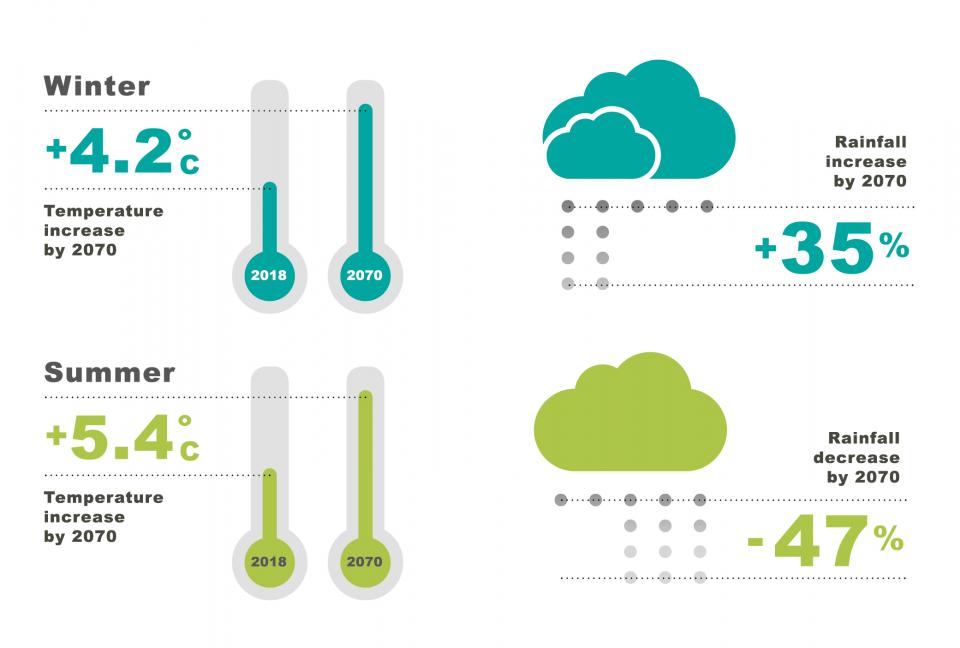 In the First Conversation in 2020, you told us that climate change was your highest priority theme. You asked for the Plan to set ambitious targets for carbon reduction, and you stressed how important water conservation is to you. There was also a desire from some of those who responded for a degree of flexibility in policies, to allow for changes in approach and technologies during the timescale of the plan. 
Our aim for our climate change policies
Help transition to net zero carbon by 2050, by ensuring that development is sited in places that help to limit carbon emissions, is designed to the highest achievable standards for energy and water use, and is resilient to current and future climate risks.
How has this influenced the shape of the plan? 
Responding to climate change has been an important factor in determining where future development should be located, and how it should be built.
The UK has a legally binding requirement to achieve net zero carbon by 2050, with the recently adopted sixth carbon budget, which was translated into law in June 2021, requires 63% reduction in emissions from 2019 to 2035 (78% relative to 1990).  Alongside the national carbon budget, the Tyndall Carbon Budget Reports can be used to identify area based carbon budgets.  Using this methodology, our evidence base suggests a carbon budget for of 11 million tonnes (MtCO2) for the period 2020-2100. Achievement of these budgets requires action across all sectors, including the built environment.  In addition, Section 182 of the Planning Act places a legal duty on local planning authorities to ensure that their development plan documents include policy to secure the contribution of development and the use of land in the mitigation and adaptation of climate change.  
Planning is not just concerned with buildings themselves but place making, and as such has the potential to be a powerful tool in the response to the climate emergency.  Achieving net zero carbon status cuts across all elements of place making; not just how homes and buildings are designed and constructed, but also by ensuring new development is located where it is or can be served by low carbon transport links, like public transport, cycling and walking.  Our spatial strategy has been informed by carbon assessment that highlights the impact that transport emissions can have, and promotes patterns of development that enable low carbon transport modes, shifting away from a reliance on private cars.  Policies related to transport are covered in the infrastructure theme and include measures to support sustainable transport as well as the transition to low emissions vehicles. 
Our proposed policy approaches also seek to adapt to climate change. They require developments to avoid flood risk areas, and to not increase flood risk elsewhere. Buildings and places should also be designed not just for efficient heating, but also to keep cool in the summer.
How does this intersect with the other themes? 
Green Infrastructure – open space including food growing opportunities as well as the role of open spaces and habitats such as peatlands in helping our communities adapt to our changing climate through flood storage, carbon storage and helping to cool our cities, towns and villages. 
Infrastructure – Includes policy proposals related to sustainable travel and electricity infrastructure. 
Topic paper 
Further information on the policy areas, including their national, regional and local context, and further information on the evidence that has informed the proposed policy direction, can be found in the topic paper which accompanies this theme: 
Tell us what you think
Our consultation for this phase is now closed.
What policies are we proposing?
The following policy areas have been identified under this theme: